Dream Kid Anu is like a regular kid in many ways. He loves to play video games and watch YouTube videos, and he also loves to cook! He's a regular MasterChef when it comes to cooking his favourite meals, like chicken and rice, or spaghetti.
But there is something that makes him different than most kids his age. Anu is currently undergoing treatment for sickle cell anemia. Anu's mom says that his medical journey has been tough, and came with its own lessons.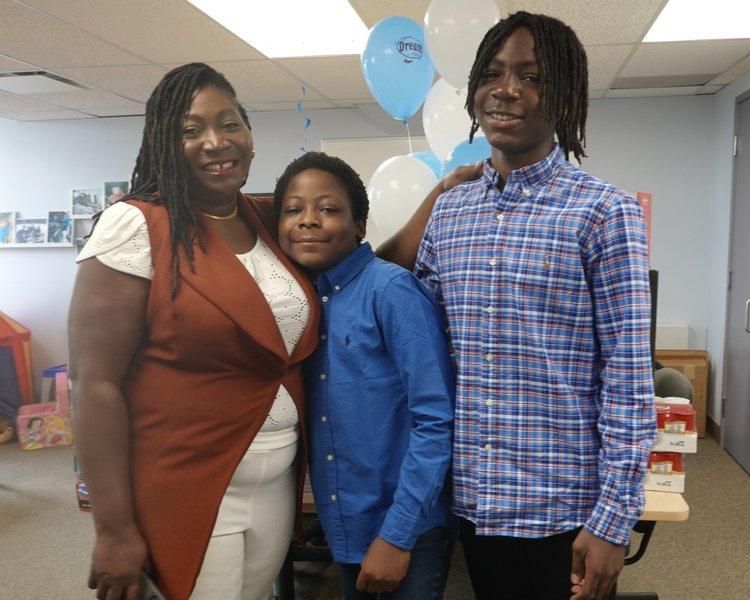 "It's sort of brought us together and strengthened us," Anu's mum told us. "Oba, Anu's older brother, was able to donate bone marrow to his brother through a transplant."
"Staying in the hospital during isolation was extremely difficult, particularly for Anu and what his body had to go through. As a single parent, the most challenging part for me was finding that balance between caring for a sick child and a healthy one – and at the same time keeping my mind together and living life on a daily basis."
During this time, Oba found a love for basketball. He was recently invited to participate in the Andrew Wiggins NBA Basketball Camp - and Anu and his mom were able to join Oba in Toronto to support him! "It makes us very glad that others are celebrating his bravery and generosity for what he did for his brother," Anu's mom says.
Anu is still going through the process of treatment. He and his family are hoping that they can soon begin going to the hospital for treatment less often. Anu's mom says that each difficult journey comes to an end one day. "I think we're closer to it now than when we started. He's doing good, but he's still undergoing treatment and is requiring a lot of close monitoring. So, we're doing those weekly trips to the hospital and just hoping for the best."
Last month, Anu's indoor and outdoor gaming Dream Come True! He got a PS5, a PC setup, and bikes for him and his brother! Anu told us that his computer and monitor were his favourite part of the Dream. He's been playing loads of Fortnite, Fall Guys, and Roblox! He and his brother have been riding their bikes a lot throughout the summer. This has been the best summer they've had as a family in years.
When deciding on his Dream, Anu joked with us about getting a lifetime supply of mushroom soup, a meal he enjoyed in the hospital many times. We couldn't let this go, so in addition to his gaming setup, Anu got a couple of flats of mushroom soup! He told us that he's eaten a LOT of soup, and he's still got lots left!
We are very glad that Anu has been able to enjoy his summer with his brother! This wouldn't have been possible without our amazing Dream Community - thank you for helping bring Anu's Dream to life!