Dream Kid Beckett is a bright, fun-loving 13-year-old living with cystic fibrosis. Though he has battled through many health challenges and hundreds of medical procedures, Beckett has had something to look forward to over the past few years - a Dream trip to Australia, where he could snorkel on the Great Barrier Reef and dive with sharks! Beckett has been waiting patiently, enduring 8 months of IV treatment, knowing that his Dream would come true.
Finally, Beckett's Dream came true! He and his family took the trip of a lifetime 'Down Under' and experienced Beckett's Dream together. Beckett enjoys competitive diving, so a major part of his Dream to spend a ton of time in the water - and boy did he! The family sailed to Green Island off the coast of Australia's mainland, and Beckett experienced some of the best snorkeling The Great Barrier Reef has to offer on Moore Reef! Beckett scuba dove with sea turtles and millions of fish, and afterwards he and his family hiked through the ocean forest of Green Island and snorkeled from the beach.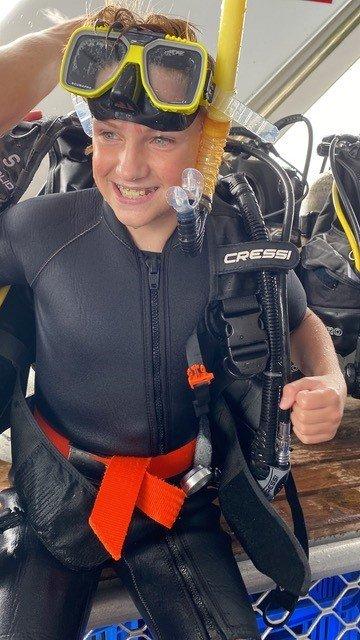 Beckett is a nature-lover, and he got to meet all sorts of animals on his trip! At a crocodile farm, he watched the crocs get fed, held a koala, and hugged a kangaroo! After riding the Skyrail Gondola over the rainforest to a private cassowary rescue farm, Beckett's family road ATVs all day, spotting baby birds and wild turkeys. While he was scuba diving, Beckett swam around with a cuttlefish, which is a rare sight to see in the reefs he visited! Beckett experienced even more underwater adventures: One day, he toured the ocean floor in a semi-submersible submarine! Another day, an Indigenous family took Beckett, his brother, and his dad spear fishing while Becketts mom and sister took a painting class with a famous Indigenous artist!
Beckett's family experienced so many family memories in Australia. A private rainforest tour, a sailing trip on a catamaran, and souvenir shopping in the village of Karunda - these are just a few of the things that Beckett and his family got to experience after the difficult treatment Beckett fought through.